My Blog
Posts for tag: missing teeth
By Sikka Dental
July 03, 2018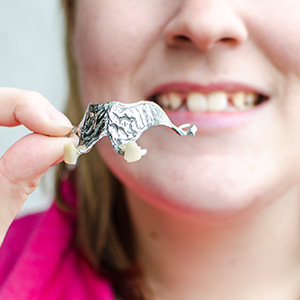 Anyone at any age, including older children and teenagers, can lose or be born missing a permanent tooth. And while those missing teeth can be restored, replacing them in patients who haven't yet reached adulthood can be tricky.
That's because their dental and facial development isn't finished. This is especially problematic for dental implants because as the jaws continue to grow, a "non-growing" implant could eventually appear out of alignment with the surrounding natural teeth. That's why it's often better to install a temporary restoration until the jaws fully mature in early adulthood. Two great choices are a removable partial denture (RPD) or a bonded ("Maryland") bridge.
While "dentures" and "teens" don't seem to go together, an RPD in fact can effectively restore a teen's lost dental function and appearance. Of the various types of RPDs the one usually recommended for teens has a hard acrylic base colored to resemble the gums, to which we attach prosthetic ("false") teeth at their appropriate positions on the jaw.
Besides effectiveness, RPDs are easy to clean and maintain. On the downside, though, an RPD can break and—as a removable appliance—become lost. They can also lose their fit due to changes in jaw structure.
The bonded bridge is similar to a traditional fixed bridge. But there's one big difference: traditional bridges crown the natural teeth on either side of the missing teeth to secure them in place. The supporting teeth must be significantly (and permanently) altered to accommodate the life-like crowns on either end of the bridge.
Instead, a bonded bridge affixes "wings" of dental material extending from the back of the bridge to the back of the natural teeth on either side. While not quite as strong as a regular bridge, the bonded bridge avoids altering any natural teeth.
While a fixed bridge conveniently stays in place, they're more difficult than an RPD to keep clean. And while less prone to breakage, they aren't entirely immune to certain stresses from biting and chewing especially in the presence of some poor bites (how the upper and lower teeth come together).
Choosing between the two restorations will depend on these and other factors. But either choice can serve your teen well until they're able to permanently replace their missing teeth.
If you would like more information on dental restorations for teens, please contact us or schedule an appointment for a consultation.
By Sikka Dental
March 30, 2018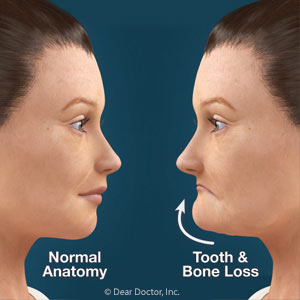 Losing teeth will certainly disrupt your otherwise beautiful smile. It could also potentially affect your food choices and whether or not you receive proper nutrition.
But something else just as consequential could be happening beneath the surface of your gums—you could be losing bone. Significant bone loss in the jaw could adversely affect remaining teeth and facial structure, as well as limit your future restoration choices.
To understand why this occurs we must first consider what bone is: living, cellular tissue. Like the body's other cells, bone has a life cycle: cells form, live and eventually dissolve (or resorb), and are then replaced by new cells. Stimulation from forces generated during chewing traveling up through the tooth roots to the jawbone keep this cycle going at a healthy pace.
But when a tooth is missing, so is this stimulation. This could slow the replacement rate and cause bone volume to gradually decrease. The jawbone width could decrease by as much as 25% the first year alone and several millimeters in height after just a few years.
Although dentures (a popular and affordable choice) can restore lost function and appearance, they can't duplicate this needed stimulation. They even accelerate bone loss by irritating and creating compressive forces on the bony ridges and the gums they rest upon.
One restoration, however, can actually help stop bone loss and may even reverse it: dental implants. This happens because an implant's metal titanium post imbedded in the jawbone attracts bone cells to grow and adhere to its surface. This could actually increase bone density at the site.
To gain this advantage, it's best to obtain implants as soon as possible after tooth loss. If you allow bone loss to occur by waiting too long, there may not be enough to properly support an implant. Even then it might be possible to build up the diminished bone through grafting. But if that's not possible, we'll have to consider a different restoration.
To determine the condition of your bone after losing teeth, visit us for a complete examination. Afterward, we'll be able to discuss with you the best way to address both your overall dental health and your smile.
If you would like more information on treating missing teeth, please contact us or schedule an appointment for a consultation. You can also learn more about this topic by reading the Dear Doctor magazine article "The Hidden Consequences of Losing Teeth."