My Blog
Posts for tag: dental care
By Sikka Dental
March 01, 2021
As you age, dental care becomes even more important for your health. Dr. Nidhi Sikka of Sikka Dental in San Jose, CA, helps patients of all ages stay on top of their oral health.
Regular teeth cleanings and exams are important for patients of all ages, and your senior care dentist in San Jose, CA, recommends cleanings twice a year. Cleanings and exams are an important opportunity for your dentist to check your oral health and screen for oral cancer.
With age, the nerves in your teeth can become less sensitive, making you less aware of any tooth decay or cavities. Seeing your dentist every six months can prevent these issues from becoming much worse and you from needing more dental work. According to the American Cancer Society, the average age of a patient diagnosed with mouth, throat, and tongue cancer is 62. Oral cancer screenings can save lives and are an important part of your regular dental appointments.
Some seniors experience negative side effects of medications they take. Dry mouth is a very common side effect of many medications, so drinking enough water throughout the day is essential to keep the mouth healthy. Talk to your dentist if your mouth is dry and it could be a side effect of medication. Patients with dentures should clean them with a brush every day and soak them overnight.
At any age, daily brushing and flossing are essential for great oral health. Your dentist will recommend brushing for two minutes twice a day and flossing at least once a day. Some older seniors have trouble with the fine motor movements involved in brushing and flossing. A water flosser or electric toothbrush could be a wise investment for these patients. Water flossers help you floss with a pulsing stream of water that cleans between the teeth. A good hygiene routine at home and regular dental appointments keep your teeth and mouth healthy!
Dr. Nidhi Sikka and Sikka Dental are here to take care of your dental health as you age. Contact us in San Jose, CA, at (408) 259-1280.
By Sikka Dental
December 29, 2020
Protect your smile from dental issues as you age. Our senior care dental team can help.
It's important that you are practicing good oral hygiene regardless of age; however, our San Jose, CA, dentist Dr. Nidhi Sikka understands the unique needs that seniors require when it comes to their oral health. Age puts us at risk for a variety of dental problems, and it's important to protect your dental health in order to protect your general health. Here's why you should make your dental health a top priority,
Protect Against Tooth Loss
Tooth loss becomes incredibly common as we age. In fact, by age 50, Americans have lost an average of 12 teeth! Periodontal disease and cavities are often to blame for tooth loss in seniors; however, these are problems that can be prevented with proper oral care and nutrition. Our San Jose, CA, dentist specializes in senior dental care, which involves providing recommendations and advice on special products, important habits and healthy lifestyle changes that can help support healthy teeth and gums in seniors.
Prevent Decay and Gum Disease
As you get older you are also more at risk for cavities and gum disease. If you deal with dry mouth, as many older adults do, this puts you at risk for decay. This is why it's important to talk with our senior care dentist, Dr. Sikka, about ways to combat dry mouth to protect against cavities. With 2 out of 3 adults over age 65 dealing with gum disease (according to the CDC), it's also crucial that you are not only flossing daily and brushing twice a day but that you are visiting the dentist every six months for cleanings and checkups. It's the best way to prevent and even catch gum disease early when it's easy to treat.
Detect Oral Cancer
Older adults, especially those who smoke or used to smoke (or used tobacco products, in general) are also at an increased risk for oral cancer. Fortunately, by coming into our office every six months for checkups we can perform a quick oral exam to look for sores, patches and other signs of oral cancer that you might overlook.
We understand just how important it is for our patients to get dental care, even during COVID-19. Of course, our San Jose, CA, senior care dentist Dr. Sikka and her team here at Sikka Dental also understand how important it is to protect our seniors who come into our office. Learn more about the extra safety precautions we are taking to keep all of our patients, including our high-risk seniors, healthy and safe. To schedule an appointment call us at (408) 259-1280.
By Sikka Dental
October 20, 2020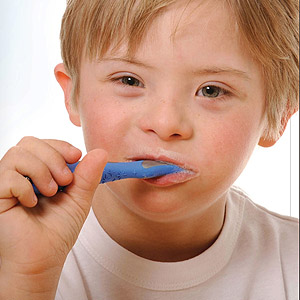 Even the simplest, everyday things can be challenging for a child with special needs. Dental care is no exception.
If you have a child with a chronic condition that affects their physical, intellectual or behavioral abilities, you know how difficult keeping up with dental care practices can be. Here are 4 tips to help make dental care easier and ensure your child has healthy teeth and gums.
Take an active role in hygiene. Depending on their abilities, you may need to take a more active role in daily teeth cleaning. If you have to brush their teeth for them, it's usually easier to have them face you "knee-to-knee." You can also use a second brush to keep their mouth propped open if they tend to bite or clench down while brushing.
Model behavior. If your child could eventually brush for themselves, it may still be a long training road. It can be an easier task if you make a habit of brushing your teeth together, or have them brush with a sibling. Not only does this allow you to monitor their progress, their learning process may be easier watching another person brush and then mimicking their actions.
Find the right dentist. Many children with special needs are subject to anxiety surrounding healthcare visits, including going to the dentist. Choosing the right dentist, skilled in the technical aspects of treatment for a special needs child and providing a "kid-friendly" environment, can make all the difference in the world. A pediatric dentist is often a good fit for children with chronic conditions.
Coordinate medical and dental care. A special needs child could have underlying health problems that complicate dental care, so keep your dentist well-informed about their overall health. Do likewise with their medical providers, particularly if their condition or treatments impact dental health, as in the case of medications they're taking that could inhibit saliva flow.
Ongoing dental care for a child with a chronic health condition can be difficult. But keeping their teeth and gums healthy is an important part of fostering greater overall health.
If you would like more information on dental care for special needs children, please contact us or schedule an appointment for a consultation. You can also learn more about this topic by reading the Dear Doctor magazine article "Managing Tooth Decay in Children With Chronic Diseases."