My Blog
Posts for: February, 2021
By Sikka Dental
February 19, 2021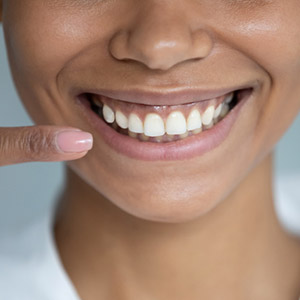 Enamel is the hardest substance in the human body, and for good reason—it's your teeth's first line of defense against wearing and harmful oral bacteria. But although enamel can "take a licking and keep on ticking," it can lose its mineral content, soften and eventually erode to expose the teeth to bacteria.
Here are 4 tips for protecting your enamel so it keeps on protecting you.
Practice sound brushing techniques. Brushing is necessary for removing bacterial plaque that can trigger dental disease. But how you brush could prove not only ineffective, but also harmful to your enamel. So, be sure you're brushing all tooth surfaces, but not too forcefully or too often (twice a day is enough)—otherwise, you could wear down enamel and damage your gums.
Wait to brush after eating. The acid levels in the mouth go up during eating, causing an immediate softening of enamel. But saliva then goes to work neutralizing acid and helping to restore enamel's mineral content. Since it takes saliva about thirty minutes to an hour to complete this task, wait on brushing at least that long. Otherwise, you might remove tiny traces of temporarily softened enamel.
Avoid eating right before bed. While we sleep, our saliva flow decreases until we wake up. If you eat just before bed, you may not be giving your saliva enough time to neutralize acid before it "goes to sleep" with you for the night. So, give your saliva ample time to neutralize any remaining acid by not eating anymore at least an hour before you turn in.
Limit drinking acidic beverages. Some of our favorite drinks—sodas, energy and sports drinks, and even some juices—can be high in acid. To protect your enamel, reduce your consumption of these types of beverages in favor of water or milk (the calcium in the latter will also benefit your enamel). When you do drink acidic beverages, use a straw to minimize contact of the fluid with your enamel.
Healthy and strong enamel is the key to healthy and strong teeth. It's worth taking these steps to protect this important defense against destructive tooth decay.
If you would like more information on personal dental care, please contact us or schedule an appointment for a consultation. You can also learn more about this topic by reading the Dear Doctor magazine article "6 Tips to Help Prevent the Erosion of Tooth Enamel."
By Sikka Dental
February 09, 2021

Over the years, dentists have become quite proficient in treating even the most severe periodontal (gum) disease. Many of these positive outcomes are achieved through manual effort using simple hand instruments called scalars and conventional periodontal surgery.
But that might be changing soon: Periodontists (specialists who care for the gums and other supporting dental structures) are starting to use a different kind of tool for gum disease treatment—surgical lasers.
Although lasers are more commonplace in other fields of medicine, recent developments hint at a more prominent future role for them in dentistry. One of these developments is a laser procedure called Laser Assisted New Attachment Procedure (LANAP®) that treats deep spaces of infection called periodontal pockets, which develop advanced gum disease.
These pockets form as infected gums gradually detach from a tooth as the supporting bone is lost. This widens the normally narrow gap between the teeth and gums. The ensuing pocket fills with infection that must be removed to adequately treat the gum disease. As the pocket extends down to the root, it's often necessary to perform a surgical procedure through the adjacent gum tissue to fully access it.
But with the LANAP® procedure, the dentist can use a laser to access a deep pocket without opening the gums. Moving from above into the gap between the tooth and gums, the light from the laser has the ability to remove diseased tissue without damaging healthy tissue.
The dentist follows this with ultrasonic equipment and manual scalers to further decontaminate the tooth root surface. The laser is then employed once again to facilitate the formation of a blood clot between the teeth and gums to seal the area with a fibrin clot. Once treated, the dentist will monitor the tooth to ensure maximum bone regeneration and gum reattachment.
Although outcomes are the same for the most part, this laser technique for periodontal pockets may have some advantages over conventional surgery. Studies so far show that LANAP® causes less tissue removal and bleeding, less potential for gum recession and less discomfort experienced by patients.
It's not likely that lasers will fully replace conventional gum disease treatments any time soon. But if the encouraging evidence thus far continues, the laser will one day become as commonplace alongside the other tools used for gum disease treatment.
If you would like more information on treatments for gum disease, please contact us or schedule an appointment for a consultation. You can also learn more about this topic by reading the Dear Doctor magazine article "Treating Gum Disease With Lasers."